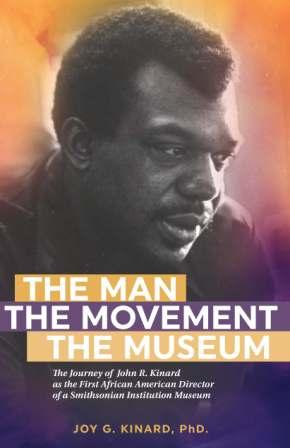 click image for order information
The Man, The Movement, The Museum:
The Journey of John R. Kinard
as the First African American Director
of a Smithsonian Institution Museum
John Kinard learned important life lessons from his strong African American family that empowered him to accomplish many great things in his short life. First, he became a forceful civil rights activist at Livingstone College and Hood Theological Seminary. He then immersed himself in African culture as an inspiring hands-on Operation Crossroads Africa team leader, who helped build homes and schools in rural East Africa during the 1960s when new African nations were emerging. Later, as the first African American Director of a Smithsonian Institution museum, this visionary pioneer opened up new areas of inquiry, research, and development in the museum field. Although Kinard won acclaim throughout the United States and the world as the founder of a museum that was a catalyst for change, he remained a revered neighborhood organizer committed to his family, church and Washington, D.C. community. Drawing from a voluminous collection of unpublished writings and images, this fresh, well-documented book is a remarkable account of John Kinardís extraordinary life and his peerless leadership in the African American museum movement.
Joy Kinard, Ph.D. is a native of Washington, DC who has worked in National Park Service (NPS) for twenty years. Most recently selected as Superintendent of the Charles Young Buffalo Soldiers National Monument (Charles Young) in Wilberforce, OH, her other NPS appointments include service at the Mary McLeod Bethune Council House National Historic Site, Frederick Douglass National Historic Site, Carter G. Woodson Home National Historic Site, Greenbelt Park, Arlington House and the Robert E. Lee Memorial. She has published articles with Oxford University Press, W.E.B. DuBois Institute of Harvard University, and the New York Historical Society. She received her BA from Livingstone College and from Howard University she received her MA and Ph.D. degrees in U.S. History with minors in Public History and Caribbean Studies. Dr. Kinard was been featured: in the HGTV documentary, African American Historic Homes; and, on C-SPAN in a National Archives program in observance of Women's Equality Day. She has served as an adjunct professor at Central State University and the University of the District of Columbia.