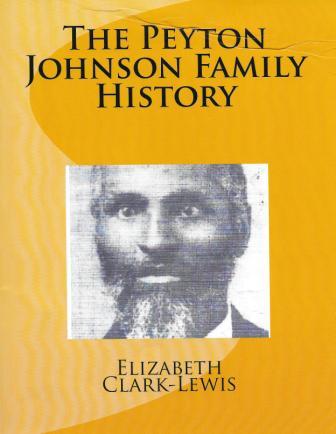 click image for order information
The Peyton Johnson Family History
Following the American Revolution a very young enslaved child cherishes a secret she whispered only to her son and then to only each of his children. After the Civil War, as free people. they told the world their secret - they were Johnsons. Winnie, her son Peyton, and all his 33 children proudly left their descendants a great name as well as a legacy of faith, unity, and strength.
The remarkable saga includes these families who live all over the world: Virginia, - Washington, DC - Maryland - Delaware - Pennsylvania - New Jersey - New York - Ohio - Illinois - North Carolina - Georgia - Florida - Alabama - Texas - Oklahoma - Nevada - New Mexico - Arizona - California - Nigeria.
Elizabeth Clark-Lewis, Professor of History at Howard University and Director of the Public History Program, is one of the founders of The Afro-American Historical and Genealogical Society, Inc., the largest Black Genealogical Society in the world.
Copyright © 2002-2022 Abena Productions
Abena Productions, P.O. Box 56283, Washington, DC 20011
All Rights Reserved